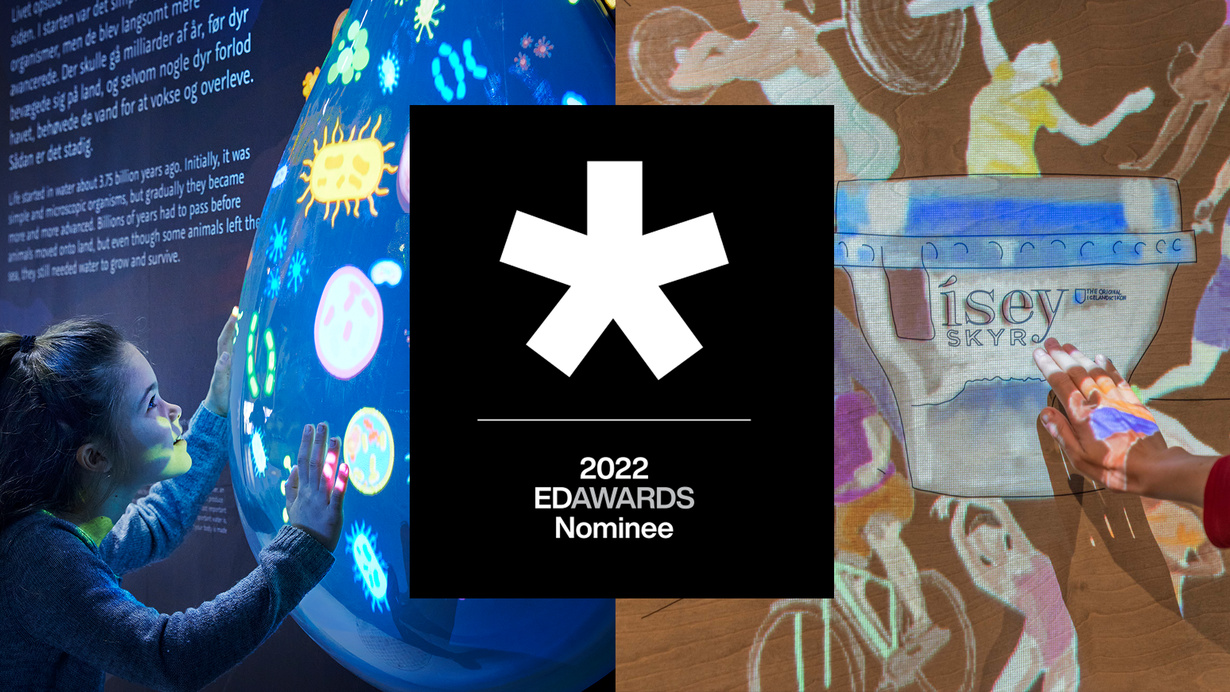 Gagarín has been nominated to the European Design Awards 2022 in the category of "Digital installations" for "The Story of Skyr" and in the category of "Exhibition Design" for The Blue Planet.
The Skyrland interactive projection is a chronological story about the remarkable journey of skyr! Gagarin designed an interactive wall where visitors can learn about the thousand-year-old history of Skyr. A simple food product is turned into an interesting experience, displayed on a single wall in an interactive, participatory and engaging way.
The animated story is projected on a wooden wall that illuminates with animation when touched. There are eight hotspots to trigger individual stories projected on the wall - visitors touch the bright spots on the wall to bring the story to life!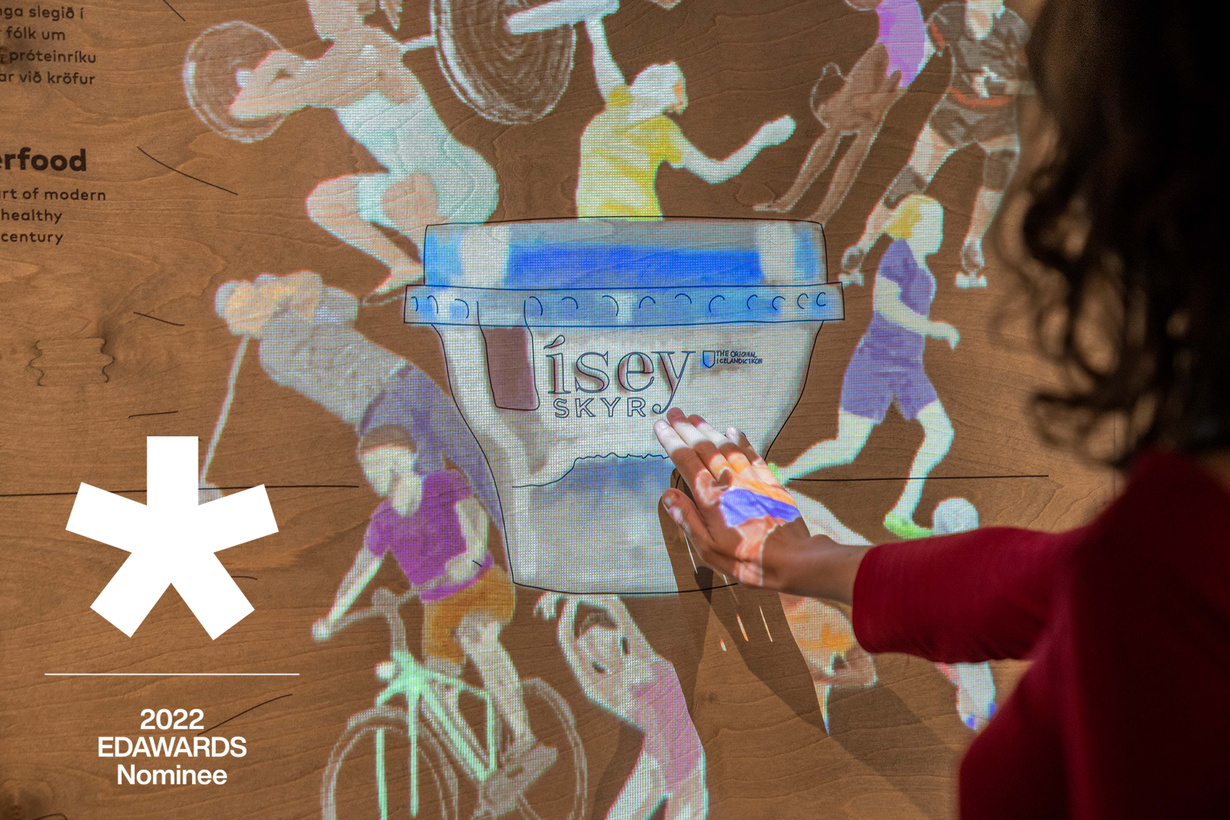 We really love when we can hide the technology as much as possible, and in this case, we used capacitive touch via copper plates that were installed behind the wall. Hringur Hafsteinsson, Creative Director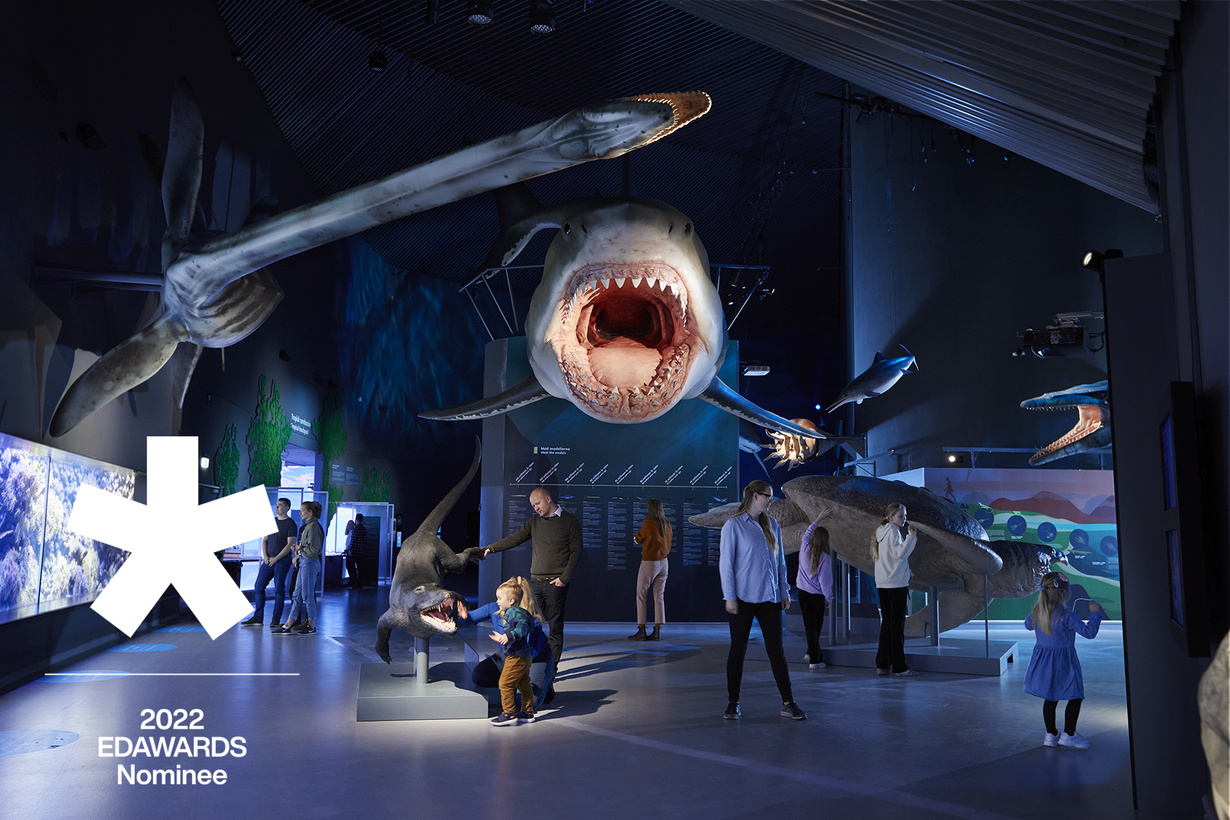 The Blue Planet is Northern Europe's largest and most state-of-the-art aquarium, situated in Denmark. It recently opened a special exhibition named Once Upon a Sea giving visitors a glimpse into times long before humans roamed the Earth when the ocean was teeming with life; from giant sea lizards to bizarre creatures that look nothing like the animals we know today.
Gagarin's role was to tell the story of the creatures that roamed the seas before our time and to explain the scale of them and the time periods within which they lived. All this through engaging participatory and interactive media where visitors also get to have an effect on the exhibition itself and leave something behind. Through this design approach, the goal was to submerge the visitors into this ancient world and leave enriched with new impressions.
European Design Awards
European Design Awards is a collaboration between leading European design magazines, made out of publishers, journalists, editors, and academics that come together on a yearly basis, to gather, evaluate and acknowledge the best examples of communication design in our continent.
The European Design Festival 2022 deals with the theme "Beyond Design" and explores issues such as "Beyond governance, beyond resistance, beyond tranquillity…." The program includes conferences, exhibitions, design walks, design talks, parties, nature walks, and of course the European Design Awards ceremony!